Tilt rod options
There are many different design aspects to choose from when designing shutters, including the type of tilt mechanism. During your design consultation we will use our expert knowledge to ensure you are achieving exactly the design you desire. There are three options available: hidden, central and offset.
Hidden tilt rod
The preferred and modern way to control the shutter louvres is with the hidden tilt mechanism, also known as silent tilt. The louvres are connected by a clever mechanism hidden within the side stile of the panel. There are no metal rods at the back of the shutter as found on low-cost versions. Tilting the louvre blades is done by moving one louvre by hand, and this will tilt all the louvres within that section simultaneously.
Please note, this is not available with 47mm louvres.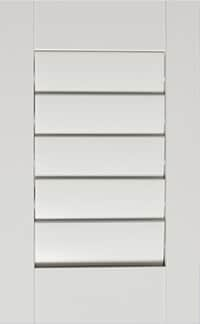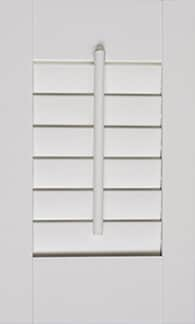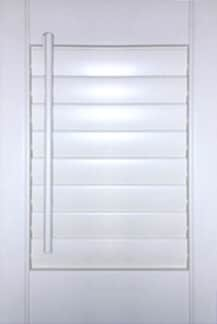 Central and offset tilt rods
For a more traditional look, the visible tilt rod is a popular option. It is typically placed in the centre of the shutter panels and adds beautiful detail. It can be offset to either side of the panel for a less prominent effect. It is used to tilt the louvre blades up and down in unison. It is 11mm wide and 16mm deep with a round top. Rods are attached using high-quality, marine-grade stainless steel staples and the tips are coated in a bonding agent to add superior strength.