The most loved plantation shutters in Acton
Once known as Soapsuds Island due to its large number of laundries in one place, Acton is now a famous suburb home to around 62,000 people. During the 20th century, Acton employed tens of thousands of people, with the motor vehicle and components industries soaring. One of the most iconic firms was car manufacturer Renault which has remained on the site since the 1920s.
Here at London Interior Shutters, our team continues to install bespoke shutters in Acton and throughout this friendly and thriving suburb. With its picturesque green landscapes, Acton is one of our favourite locations for installations.
Massive savings on all shutters
Having shutters installed is an exciting and beneficial investment for any home. Daniel and Hayley have spent many years perfecting their craft and expertise on all things shutters. As a family-run business, we are proud to have our name in so many homes in and around London.
Window shutters for any space
Shutters add an essence of class and elegance to the interior and exterior of any home. Custom made to fit perfectly to any window, they are timeless and allow you to control the level of light and sound that enters your home. Easy to clean and maintain, shutters have become increasingly more popular. Needing only a quick dusting, they have become the number one choice for many homes in and around London and throughout the UK. See our 9.9 rating on Checkatrade.
View our extensive shutter portfolio
So what are your options? A question with many answers. We offer a wide range of bespoke shutters in Acton, tailored to complement the decor and style of your home. Our waterproof range has the same quality finish as our Hardwood and MDF shutters and is perfect for bathrooms and kitchens, while our full height shutters are ideal for controlling the level of light through more oversized windows. Available in a selection of colours and materials, we really do craft your shutters to suit you and your home.
Best priced shutters in Acton
As a multi-award-winning company, we're proud to be one of the lowest-priced shutter specialists in and around London. We're so confident if you find the same product of the same quality with a national retailer, we will match it! Our price match promise ensures you always receive the most competitive prices for your bespoke shutters in Acton.
Our interior shutters are individually designed to be paired perfectly for windows.
We pride ourselves on being honest and transparent with no sales gimmicks, offering high quality at the very best prices.
Ready to share our passion for perfection?
Here's how it works!
Got a question about shutters?
See the answers to our most frequently asked questions. If there is anything else you would like to know, our team are more than happy to help.
Our Mission
Our aim is simple; to introduce quality into the bespoke window shutter industry across London and the surrounding areas.
Every louvre and every shutter panel is expertly designed, measured and installed paying attention to the finest of details. With decades in the industry, we have worked endlessly to source the best product that is unrivalled in quality, longevity and value.
As we continue to grow, 'passion for perfection' remains at the heart of what we do, operating ethically and providing an outstanding customer experience.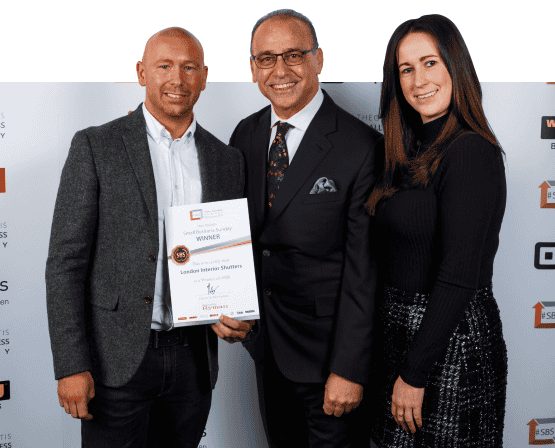 5* Family shutter company
When you book with London Interior Shutters, you are guaranteed a high quality, honest service. As a small, award-winning, family-run business, customer service and quality are our priority. Our passion for perfection and dedication to every installation and customer is what sets us aside from others. Get in touch with one of our friendly experts today for your free no-obligation quote. With free installation and our 7-year guarantee, it's no wonder London Interior Shutters are the most loved shutters in Acton.
Excellent service and shutters
"This company has provided excellent service from consultation to fitting- I can honestly say their exemplary manner and customer service has never wavered. Throughout the process (shutter ordering, production etc.) I have had communications with several members of the team and they have all presented the same level of service- always there to answer questions and basically, keep you in the loop. I would certainly give them my custom again- there is nothing I can fault."
Customer in London
Friendly customer service
"The team were great from start to finish, super professional and friendly customer service. The process was seamless from the quote through to delivery. And even were ready before the estimated date, win! Installation was done by Max, who was lovely and did a great job. We love our new shutters, thank you to the team!"
Customer in Ealing
"We are absolutely delighted with the quality of our shutters, we went for a tier on tier design in a dark wood (Old Teak) and they look amazing. We did have to wait a little longer than was originally estimated but now they are in we are so happy with them!"
Customer in Hammersmith
With over 1000 happy customers in West London, we are proud to service these areas