Beat any National Retailer
Trusted and reviewed window shutters in Palmers Green
Palmers Green was once a tiny hamlet in the parish of Edmonton. With its few isolated houses in the mid-17th century, its population was small. Fast forward to today, Palmers Green has the largest population (around a staggering 15,895) of the 21 wards in Enfield. Home to a parade of shops known as Palmers Green Shopping Centre situated 7.6 miles north of Charing Cross. This bustling suburban area has a number of independently owned cafes, restaurants and shops. This has simply become one of London Interior Shutter's most favoured areas we cover with its friendly community.
No salespeople, just shutter experts
As a family-run business, we understand the importance of building a confident and positive relationship with all of our clients. We never employ sales reps or outside contractors, so when you book with London Interior Shutters, that's exactly who you get. Our transparent and friendly service is what makes us the most loved shutters in Palmers Green.
Plantation shutters are the perfect finish for your home
Shutters are a classic and timeless finish to any home. They create a sophisticated and elegant feel to the interior and exterior while adding value to the property, making them the first choice for homeowners and those on the property ladder. Not only are shutters an excellent solution for insulating your home by ventilating the room during the summer months and blocking out those pesky drafts in the winter, but they also provide an extra buffer between your windows and any outside noise making them a great sound insulator. Find our reviews on Checkatrade.
View our expertly crafted shutters in Palmers Green
Our shutters are handcrafted to fit any window space in any home. Available in a selection of different colours and sizes, we really can tailor them to fit in with any existing decor. Our Hybrid range is a hardwearing alternative to hardwood. Engineered from MDF makes them more of a lightweight option ideal for more oversized windows. Our full-height and tier-on-tier shutters are also best suited for larger windows, and with our tracked choice available, we really can find the perfect shutters for you and your home.
Exceptional low cost window shutters
With full transparency on our services and prices, our passion for perfection has helped us go from strength to strength as London's multi-award-winning shutter specialist. We refuse to be beaten on price, and with no hidden charges or additional costs when it comes to value for money, you really are in the safest hands with London Interior Shutters.
Our interior shutters are individually designed to be paired perfectly for windows
We pride ourselves on being honest and transparent with no sales gimmicks, offering high quality at the very best prices.
Ready to share our passion for perfection?
Here's how it works!
Got a question about shutters?
See the answers to our most frequently asked questions. If there is anything else you would like to know, our team are more than happy to help.
Our Mission
Our aim is simple; to introduce quality into the bespoke window shutter industry across London and the surrounding areas.
Every louvre and every shutter panel is expertly designed, measured and installed paying attention to the finest of details. With decades in the industry, we have worked endlessly to source the best product that is unrivalled in quality, longevity and value.
As we continue to grow, 'passion for perfection' remains at the heart of what we do, operating ethically and providing an outstanding customer experience.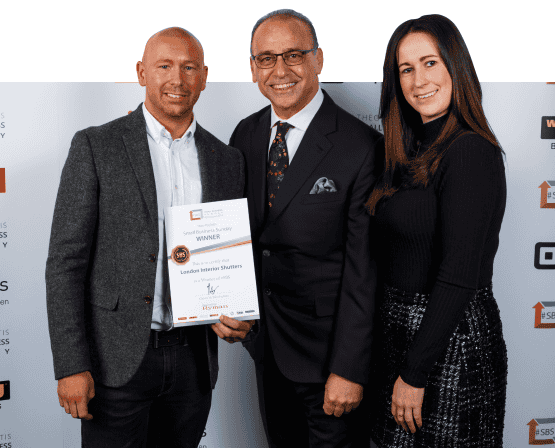 Here at London Interior Shutters, we take the time to get to know you and your home. Our no jargon motto means you will only receive the highest level of customer service from our friendly family team (yes, we really are a family!). With no hidden or extra costs, you can rest assured knowing you're in the best hands throughout your shutter experience. We're proud to have our name in your home and remain professional and motivated from the very first meeting to the installation of your shutters in Palmers Green.
"Great installer, he was tidy and professional. The shutters are great too."
Customer in London
Top notch service & shutters
"Our new shutters are great and the service has been top notch. Would definitely recommend."
Customer in Enfield
Excellent value for money
"Brilliant and effective work, came on time and worked with no mess! Results speak for themselves blinds are beautiful!"
Customer in Palmers Green