Beat any National Retailer
Beautiful window shutters in Waltham Forest start here
Bordering five other London boroughs, Waltham Forest was formed in 1965 thanks to the merger of the municipal boroughs of Leyton, Walthamstow and Chingford and is now home to around 280,000 residents. As one of the greenest boroughs north of the River Thames, Waltham Forest has some beautiful green spaces, including Larks Wood, Ridgeway Park and part of Epping Forest and was even a host borough for the 2012 Olympic and Paralympic Games. With its quick and easy transport links into the city centre, Waltham Forest has become increasingly more popular over the years. Waltham Forest is an area we at London Interior Shutters know well and have served for many pleasant years.
Consistent, high-quality wooden shutters
As a family-run business, we carry out all our consultations and installations. With our striving passion for perfection, our goal is to provide professional and personal service. We never use salespeople or sub-contractors, so you are always guaranteed a consistent and high-quality service from a member of our dedicated in-house team.
Let your home benefit from shutters in Waltham Forest
With energy costs rising and set to soar again, shutters are an excellent solution to keeping those spiraling costs down. Once installed, shutters act as a barrier, preventing heat from escaping through the windows during cooler months and preventing too much heat from entering your home in the warmer months, helping you effectively control your home's temperature all year round. You'll spend less time adjusting the thermostat and more time managing your savings, and with their eco-friendly benefits, you'll be doing your bit to help the environment. Read our reviews on Checkatrade.
Crafted shutters made to match your windows perfectly
Our bay window shutters are expertly aligned to fit the shape and angles of your bays, allowing you complete control of the level of light and privacy you desire. If privacy is your priority, our solid shutters offer the maximum level of seclusion. Crafted in our high-quality hardwood, they are traditional, timeless, and the best solution for blocking out unwanted light. As well as their soundproofing feature, solid shutters also offer the highest level of insulation, making them the most energy efficient. With seven different high-quality shutter designs to choose from, our team are on hand to assist you every step of the way.
Best value plantation shutters
With decades of experience in the industry, our team is highly skilled and holds a wealth of knowledge in all things shutters. From sourcing the finest materials at the best prices to working within a tight budget, we can provide you with a top-end finished product at the most competitive rate. When it comes to value for money, London Interior Shutters really does have you covered. This is why we are number one for shutters in Waltham Forest!
Our interior shutters are individually designed to be paired perfectly for windows
We pride ourselves on being honest and transparent with no sales gimmicks, offering high quality at the very best prices.
Ready to share our passion for perfection?
Here's how it works!
Got a question about shutters?
See the answers to our most frequently asked questions. If there is anything else you would like to know, our team are more than happy to help.
Our Mission
Our aim is simple; to introduce quality into the bespoke window shutter industry across London and the surrounding areas.
Every louvre and every shutter panel is expertly designed, measured and installed paying attention to the finest of details. With decades in the industry, we have worked endlessly to source the best product that is unrivalled in quality, longevity and value.
As we continue to grow, 'passion for perfection' remains at the heart of what we do, operating ethically and providing an outstanding customer experience.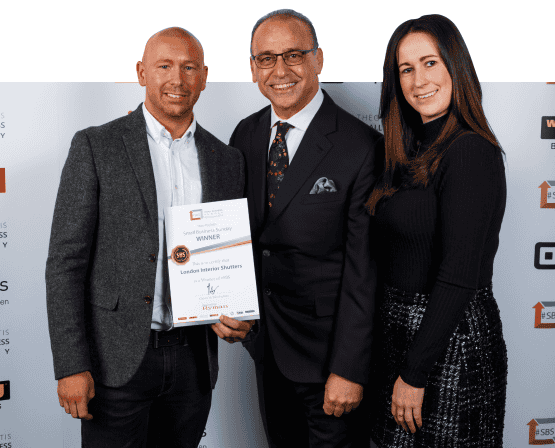 Shutters perfected over many decades to bring you the best
Bringing out the elegance and class of a home is a skill we have perfected over many decades. We pride ourselves on our customer service and dedication to not only every installation but also to every client we have the pleasure of working with. When you book with London Interior Shutters, a member of our family team is exactly who you'll get. We never use subcontractors and can guarantee a professional and friendly service throughout your shutter experience. With free installation and a seven-year guarantee, there has never been a better time to book with London Interior Shutters.
"Excellent job. The shutters look exactly as we hoped they would (and as promised). The workmen were punctual, courteous and completed the work to a very high standard. London Interior Shutters kept us well informed throughout the process. Would definitely recommend to others."
Customer in Waltham Forest
"Just the perfect service from communication to workmanship, so flexible as well. Daniel came at 8am on a Sunday as I didn't have any other time. Max the fitter is so respectful of your property and space as well. He insisted on taking his shoes off to work upstairs because we had carpet. Shutters are never a cheap option but when you get service and a finish like this you will be happy you spent the money."
Customer in Leyton
"We are delighted with the new shutters and everything went exactly as planned. I would have no hesitation in using the company again and would highly recommend to others."
Customer in Walthamstow