The most loved plantation shutters in Ealing
Once a rural village, Ealing is now one of the largest and most ethnically diverse boroughs in the country. With a population of over 351,000 residents, this welcoming and cultured district has continued to grow and develop, enabling it to become part of Greater London in 1965. Ealing Studios, the oldest studio in the world, has recorded countless hours of entertainment since 1902 and launched many of Britain's greatest and most gripping dramas. Overlooking Walpole Park, 28 acres of tree-lined beauty, the studio is just one of Ealing's finest features. As one of London's greenest boroughs, we at London Interior Shutters are proud to be loved for providing the most environmentally friendly shutters in Ealing.
Loved by London's interior design community
Recognised by Houzz, the interior Design Community, for the fourth consecutive year, London Interior Shutters is renowned for our reputation and in February 2019, we were awarded Theo Paphitis' Small Business Award. As a small family-run business, we are proud to have been recognised as we continue to raise the standard across our industry.
Quality wooden shutters built to last
With their classic and timeless design, shutters have become increasingly more popular over the years. Thanks to their low maintenance, our plantation shutters are perfect for everyone from all different walks of life. They're both stylish and convenient, only needing a quick dusting, allowing you to get on with the more essential things. Shutters have been proven to withstand the test of time. Perfectly complimenting ever-changing decor means you can redecorate to your heart's content without having to redesign your windows. What more could you wish for. See our reviews on Checkatrade.
Handcrafted to millimetre perfection
All shutters in Ealing are bespoke and handcrafted to fit your windows flawlessly. We have a range of shutters in an array of different materials, colours, styles and sizes. Our hybrid shutters are a hardwearing alternative to hardwood, perfect for wider windows, while our Basswood shutters are one of the most popular hardwoods available. Whether it be our full height shutters ideal for covering windows from top to bottom or our cafe-style range, which offers partial coverage, our team are hand to help you every step of the way, offering advice and guidance.
Window shutters in Ealing that won't cost the earth
We believe everyone should have the home they desire. Our prices are amongst the lowest in and around London, so whether it be our classic white plantation shutters or our solid, more traditional shutters, London Interior Shutter's price match promise makes this possible with the most competitive rates in the industry for shutters in Ealing. With our 7 year guarantee, our shutters are a secure and beneficial investment for you and your home.
Our interior shutters are individually designed to be paired perfectly for windows.
We pride ourselves on being honest and transparent with no sales gimmicks, offering high quality at the very best prices.
Ready to share our passion for perfection?
Here's how it works!
Got a question about shutters?
See the answers to our most frequently asked questions. If there is anything else you would like to know, our team are more than happy to help.
Our Mission
Our aim is simple; to introduce quality into the bespoke window shutter industry across London and the surrounding areas.
Every louvre and every shutter panel is expertly designed, measured and installed paying attention to the finest of details. With decades in the industry, we have worked endlessly to source the best product that is unrivalled in quality, longevity and value.
As we continue to grow, 'passion for perfection' remains at the heart of what we do, operating ethically and providing an outstanding customer experience.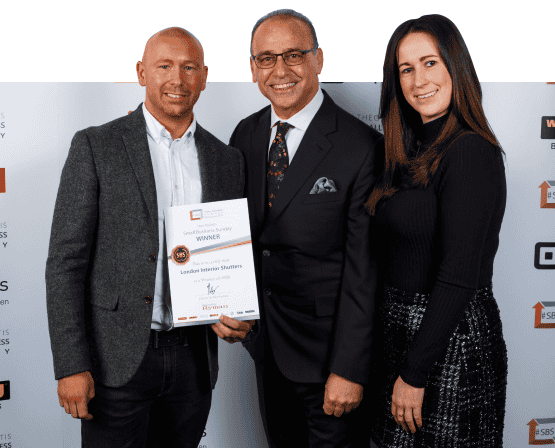 4 trees planted for every tree in our production
Our family-run business is passionate about all things windows and prides itself on our high-quality products and customer service. Our unbeatable pricing and price match promise sets us aside from other companies in the area. We price our shutters straightforwardly and honestly, guaranteeing we craft all of our shutters from sustainable and ethically sourced timber. For every one tree that we use, we ensure that another four are planted to replace it.
Reliable company and beautiful shutters!
"Excellent customer service. Kept up to date with progress of order. Reliable, tidy, friendly staff. Superb product. Would recommend."
Customer in London
Shutters in our bay window
"Very pleased with our new shutters and the service received. Professional and easy to deal with."
Customer in Hanwell
"Great service and price for quality shutters. Delivered on time. Very happy!"
Customer in West Ealing
With over 1000 happy customers in West London, we are proud to service these areas