The finest plantation shutters in Hammersmith
Hammersmith is a district of West London situated just 4.3 miles southwest of Charing Cross. Home to over 182,000 people, it is the administrative centre of the London Borough of Hammersmith and Fulham. With plenty of green spaces, the area has become more popular with growing families and individuals who want to be in the heart of the city. Boasting two busy shopping centres, Kings Mall and Hammersmith Shopping Centre, the area is a prime location for those who love to shop for their favourite high street brands and stores. If that wasn't enough, the huge Westfield Shopping Mall in Shepherds Bush is just a stone's throw away.
Hammersmith is one of the primary areas we at London Interior Shutters love to serve. We have been installing our hand crafted shutters throughout the district for many years and have received nothing but positive feedback from all of our clients.
Shutters without any pushy salesmen
"Can I have shutters in my bathroom?" "Are shutters easy to maintain and clean?"
These are questions our experts are on hand to answer. With extensive knowledge in all things shutters, Dan and his team of shutter specialists are available to help guide you through the whole process.
Window shutters that add insulation to your home
Living in such a busy part of London has a significant number of benefits. From its excellent transport links to its outstandingly rated schools, Hammersmith does seem to have it all. With such a hugely populated area, it can be challenging to reduce the level of noise that enters your home from the outside world. With their soundproofing qualities, shutters are ideal for those wanting to keep the noise of the city at bay and provide an extra barrier of insulation for your home, helping to keep rising energy costs down. Check out our 9.9 rating on Checkatrade.
Plantation shutters made to be your perfect match
Our shutters come in various shapes and sizes and are all hand crafted to fit even the trickiest of windows. Our expert team will help you find the right design and colour that will complement not only the interior of your home but also the exterior. Whether you have a bay window that needs dressing or a trapezium window that seems impossible to cover, we'll find the right shutter for the job.
Very best priced shutters in Hammersmith
We believe in our product and promise to save you money wherever we can. With free installation carried out by our in-house team, we can offer you the best possible service at the most competitive rates, but if you do happen to find a service and product of the same quality with any national retailer, we will match it.
Our interior shutters are individually designed to be paired perfectly for windows.
We pride ourselves on being honest and transparent with no sales gimmicks, offering high quality at the very best prices.
Ready to share our passion for perfection?
Here's how it works!
Got a question about shutters?
See the answers to our most frequently asked questions. If there is anything else you would like to know, our team are more than happy to help.
Our Mission
Our aim is simple; to introduce quality into the bespoke window shutter industry across London and the surrounding areas.
Every louvre and every shutter panel is expertly designed, measured and installed paying attention to the finest of details. With decades in the industry, we have worked endlessly to source the best product that is unrivalled in quality, longevity and value.
As we continue to grow, 'passion for perfection' remains at the heart of what we do, operating ethically and providing an outstanding customer experience.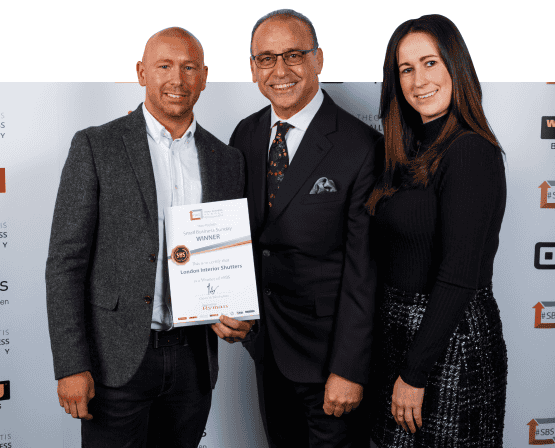 Our shutters are seen across Hammersmith
When you book with London Interior Shutters, you are guaranteed a high-quality service from a family-run and committed company. As London's multi award winning shutter specialists, our passion for perfection is second to none. Our in house team has built a reputation we are proud of, and we have worked endlessly to source the best products while paying close attention to the finest of details. With one of the most renowned online reputations, we are delighted with the support we receive as we continue to raise the standard across our industry.
Shutters to front of house
"Great company, price was very reasonable compared to others, customer service was very responsive and installation efficient and tidy. Definitely recommend and use them again."
Customer in London
"Excellent Service. Wonderful product and very professional from start to finish. For the quality of the product the price is reasonable. I highly recommend."
Customer in Hammersmith
Shutters have transformed my windows!
"High quality shutters from an excellent & friendly team. They've totally transformed our home. Very happy!"
Customer in London