Beautiful window shutters in Woking start here
Woking is a large town situated in the heart of Surrey, just 23 miles southwest of the City of Westminister. Marking the Queens 60-year reign by designing an area of high-quality restaurants and outdoor restaurants, Jubilee Square has only enhanced this already thriving town with new paving and landscaping in the town centre and its newly refurbished shopping centre located nearby. With many completed shutter installations in and around Woking, our customers love our extensive choice of materials, styles and sizes. With such glowing reviews on Checkatrade and Trustpilot, our team are proud to be the first choice for shutters in Woking.
Established family shutter business that prides itself on quality
Our in-house team of dedicated, highly skilled craftsmen and installers have spent decades perfecting their trade. Securing multiple awards for our products and customer approach, we pride ourselves on providing not only high-quality bespoke shutters but a transparent and professional service. We are on hand to answer any questions you may have and provide you with a free, no-obligation quote without the hard sell.
Interior shutters that ooze sophistication
Gone are the days of trying to find curtains and blinds to match your home's interior. Opting for shutters brings a feeling of elegance and sophistication into any living space. Not only are shutters aesthetically pleasing and easy to maintain they also compliment the interior decor of your home. They also give the exterior a classic, timeless finish. Shutters are a bonus for many homeowners, improving your home's general appearance from both the inside and outside. They won't only increase your chances of securing a sale if you are looking to sell but will also add value to your property. Find our reviews on Checkatrade.
Find the perfect colour for your wooden shutters
With a choice of 7 different styles, 4 materials and over 45 different colours to choose from, our expert team at London Interior Shutters will help you find a design that is perfect for you. Our full height and tracked shutters are ideal for bi-fold and patio doors. In contrast, our shaped shutters are an excellent choice for homes with unconventionally shaped windows enabling what was once an awkward space to become one of your homes most iconic and unique features.
Exceptional low cost plantation shutters in Woking
With our bespoke hand-crafted shutters starting from as little as £250, there really has never been a better time to book with London Interior Shutters. We offer free installation as well as a 7-year guarantee, so when you invest with us, you really are guaranteed high-quality service at the best price.
Our interior shutters are individually designed to be paired perfectly for windows.
We pride ourselves on being honest and transparent with no sales gimmicks, offering high quality at the very best prices.
Ready to share our passion for perfection?
Here's how it works!
Got a question about shutters?
See the answers to our most frequently asked questions. If there is anything else you would like to know, our team are more than happy to help.
Our Mission
Our aim is simple; to introduce quality into the bespoke window shutter industry across London and the surrounding areas.
Every louvre and every shutter panel is expertly designed, measured and installed paying attention to the finest of details. With decades in the industry, we have worked endlessly to source the best product that is unrivalled in quality, longevity and value.
As we continue to grow, 'passion for perfection' remains at the heart of what we do, operating ethically and providing an outstanding customer experience.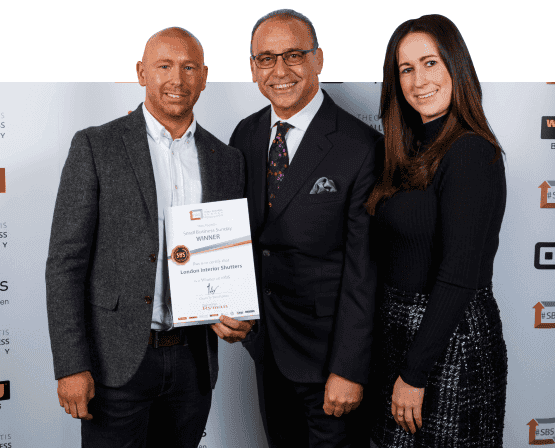 Start your journey with the industry experts today
When you book with London Interior Shutters, a member of our friendly family team will arrange for a visit that suits you, where they will measure and survey your windows. We'll discuss all your design options down to the very last detail, show you some of our samples so you can really appreciate the quality of our shutters and answer any questions you may have. With our friendly and reliable approach to customer service, you can be confident in knowing that we will never pressure you into making a decision on the day, and we are there to guide you through every step of the shutter process.
"I was really impressed with the team at every level. Hayley was exceptional at communicating when I was looking for quotes and providing updates throughout the order build to remind when the fitting would be due. Daniel came to take measurements and was really personable and thorough in walking through the options with me, and also changed over the locks on my windows for free to fit the shutters. The shutters themselves are fantastic – the high quality workmanship and attention to detail are obvious and they fit the windows perfectly. I wouldn't hesitate to recommend this professional team."
Customer in Woking
The perfect wooden shutters
"The actual job was done extremely quickly. We were kept informed throughout the wait between the initial measurements and the final fitting. The guys who came to fit the shutters were extremely quick and polite. The shutters themselves look great."
Customer in Kingfield
"Great service and price for quality shutters. Delivered on time. Very happy!"
Customer in Old Woking