Beautiful wooden shutters in Tower Hamlets start here
Nestled in the east of London, covering much of the East End, is where you will find the London Borough of Tower Hamlets. Established in 1965, the borough is now home to over 317,000 residents and has continued to evolve throughout history. From its historic terrace in Whitechapel to the extensive skyscrapers at Canary Wharf, the area remains hugely diverse with its unique and vibrant feel. All Hallows, one of the oldest churches in London and the Royal Mint are just two of the several buildings that survived the wartime bombings. We at London Interior Shutters never tire of a trip to the exciting and quirky Tower Hamlets.
Established and trusted plantation shutter company
Dan and the team have some of the most extensive knowledge and experience in the industry. Available to answer any questions, this team of 4 multi-award winning shutter experts has seen them excel and go from strength to strength since the company first began operating in 2012.
Take your home to the next level with shutters in Tower Hamlets
Shutters have been proven to withstand the test of time. As one of the oldest forms of window dressings, they are functional and practical and look elegant and classic. Thanks to their versatility, shutters are crafted to fit almost any window space, and with their upmarket and expensive feel, they are sure to add value to any property. Shutters could also be the ideal solution for allergy sufferers. Unlike thick curtains, shutters are unable to attract allergens thanks to their wipe-clean and smooth surfaces. Whether you react to pollen, pet hair or if you're tired of dust creeping into your nose, plantation shutters could be just what you need. See our reveiws on Checkatrade.
We shall select the perfect window shutter material for you
When choosing the style of shutters for your home, it is worth considering some things. Our full-height and tracked shutters are the ideal choices for more oversized windows and offer full coverage. At the same time, our cafe style and tier-on-tier range provide partial coverage giving you the element of privacy you desire without covering the entire window. Our solid shutters may be just what you're looking for if your home has a more traditional feel. We now provide a waterproof option in our shutters suitable for kitchens, bathrooms and wetrooms, so whatever the space, we can find the perfect shutter.
Bespoke at affordable prices
The price of shutters in Tower Hamlets varies from company to company. Having conducted extensive research, we believe we provide the best product at the best price. If you don't want to take our word for it, take a look at some of our glowing reviews on Trustpilot or any of our other review platforms. We meet and exceed all of our client's expectations, and with our transparency on timing and price, it's no wonder we are the most loved shutters in and around London.
Our interior shutters are individually designed to be paired perfectly for windows
We pride ourselves on being honest and transparent with no sales gimmicks, offering high quality at the very best prices.
Ready to share our passion for perfection?
Here's how it works!
Got a question about shutters?
See the answers to our most frequently asked questions. If there is anything else you would like to know, our team are more than happy to help.
Our Mission
Our aim is simple; to introduce quality into the bespoke window shutter industry across London and the surrounding areas.
Every louvre and every shutter panel is expertly designed, measured and installed paying attention to the finest of details. With decades in the industry, we have worked endlessly to source the best product that is unrivalled in quality, longevity and value.
As we continue to grow, 'passion for perfection' remains at the heart of what we do, operating ethically and providing an outstanding customer experience.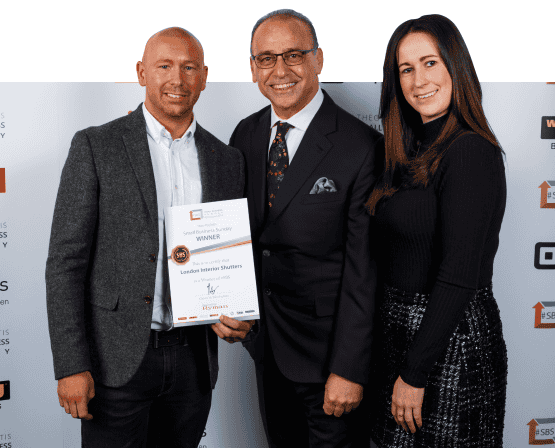 Established and trusted in the shutter industry for over a decade
We've been installing our shutters in Tower Hamlets for many years. Our award-winning family team pride itself on our friendly and easy-going approach. We are amongst some of the most experienced professionals in the industry and are here to guide you through the whole process. Our experts come prepared with samples so you can get a natural feel for our product and answer any questions you may have. So to arrange your no-obligation consultation or if you need any further information, please get in touch with us.
Wooden shutters in my office
"Love my shutters so much, easy to book and fitted well and left no mess, great from start to finish"
Customer in Tower Hamlets
"Would highly recommend London interior shutters. They were very professional, well priced and the end product is fantastic."
Customer in Bow
Fabulous bedroom shutters
"Fantastic service from start to finish. Great price and good advice and fabulous shutters!"
Customer in London
With over 1000 happy customers in East London, we are proud to service these areas