The most loved window shutters in East Ham
With a population of around 17,000, East Ham is a busy district of the London Borough of Newham and is identified as a Major Centre. Approximately 8 miles east of Charing Cross, it's a straightforward commute to the City or Canary Wharf. The 2012 Olympics brought not only excitement to this budding district but a great deal of investment and continues to do so today with its new shops, restaurants and cultural experiences. Popular with nature lovers and those wanting to keep in shape thanks to its selection of parks, East Ham has quickly become one of London Interior Shutters favourite locations to install our bespoke and handcrafted shutters.
Trusted shutter company for over a decade
As industry experts, we've spent over a decade perfecting our craft and using our extensive knowledge to provide only the best high-quality shutters to all our clients. As well as doing our bit to help protect the environment, our shutters help your home to be more eco-friendly, and with energy costs continuing to rise, there is no better time to save money.
Plantation shutters are the perfect addition to any space
As well as giving homes along its tree lined streets an elegant and classic finish, installing shutters provides you with extra soundproofing and allows you to have maximum control of the level of light that enters your home without losing the all-important natural day light you need. This is made simple with our 5 different louvre sizes and solid hardwood that lasts so you won't be in a rush to replace them, unlike your old sun bleached curtains. Read our reviews on Checkatrade.
The widest range of wooden shutters
Your options depend entirely on you and what you want to get out of your shutters in East Ham. Our extensive range includes full height shutters for large windows and a tracked option ideal for bi folding doors, shaped shutters for those tricky and integrated windows, security shutters for those who want that little bit more home protection and our waterproof range most suited for kitchens, bathrooms and wet rooms. With our expert in house team, the possibilities really are endless.
We do the fitting for FREE in East Ham
We quote all of our installations in a straightforward and honest manner. We source the finest materials at the lowest price to provide a luxurious and flawless finish. When you receive a quote from London Interior Shutters with no hidden charges or additional costs, you are guaranteed a transparent service of the highest quality at the best value.
Our interior shutters are individually designed to be paired perfectly for windows
We pride ourselves on being honest and transparent with no sales gimmicks, offering high quality at the very best prices.
Ready to share our passion for perfection?
Here's how it works!
Got a question about shutters?
See the answers to our most frequently asked questions. If there is anything else you would like to know, our team are more than happy to help.
Our Mission
Our aim is simple; to introduce quality into the bespoke window shutter industry across London and the surrounding areas.
Every louvre and every shutter panel is expertly designed, measured and installed paying attention to the finest of details. With decades in the industry, we have worked endlessly to source the best product that is unrivalled in quality, longevity and value.
As we continue to grow, 'passion for perfection' remains at the heart of what we do, operating ethically and providing an outstanding customer experience.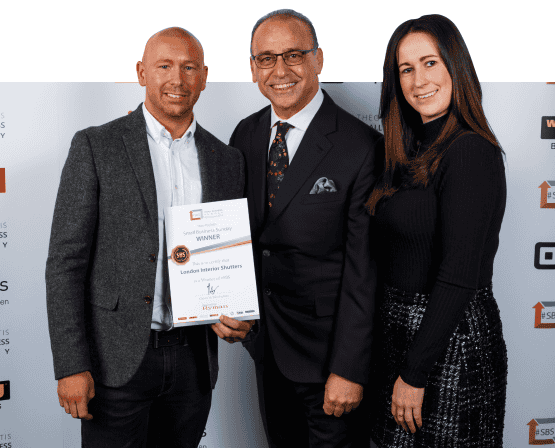 Here at London Interior Shutters, we pride ourselves on our impeccable customer service skills and dedication to each installation we take on, no matter how big or small. As a family-run business, quality is of the utmost importance to us, so we take the time to listen to our clients and tend to their needs and desires as best we can. With our 7-year guarantee and unbeatable prices, London Interior Shutters is quickly becoming the most loved shutter company in East Ham.
"I would definitely recommend them. They were informative, helpful & done a great job fitting the shutters. I am over the moon."
Customer in London
"My bedroom shutters were installed today and I couldn't be happier. They look great! I will be ordering for my bathroom next. From initial consultation up to installation, the whole team have been extremely helpful and polite and the quote supplied was by far the best I found. I highly recommend choosing London Interior Shutters…"
Customer in Upton Park
"Friendly, trustworthy and professional family company. Excellent value for money. The shutters are lovely. I would recommend them without hesitation!"
Customer in East Ham
With over 1000 happy customers in East London, we are proud to service these areas