Beautiful plantation shutters in Wimbledon start here
With a growing population of around 68,000 and a staggering estimation of 500,000 tourists each year, Wimbledon is probably southwest London's most well-known district and town. Famous for being the home of tennis, Wimbledon first hosted the championships back in 1877, and it has taken place in The All England Lawn Tennis and Croquet Club annually ever since. With tourist attractions including; Wimbledon Common, Wimbledon Theatre and Wimbledon Stadium, a venue that plays host to racing events, this popular town is just one of London's thriving districts London Interior Shutters are pleased to "serve" (pun intended).
Wooden shutters crafted to millimetre perfection
As leading industry experts, we pay close attention to detail, ensuring that not only do your new bespoke shutters fit perfectly but that they also complement both your interior and exterior. With multiple quality checks, our team is meticulous in ensuring every installation is nothing less than 100% perfection. We take the time to find the best match with an array of different designs.
Making your rooms ooze sophistication with quality window shutters
With such an elegant and classic look, shutters give a home that sophisticated and timeless finish. Instantly adding value to any property, shutters are simple and easy to use for people from all walks of life. Unlike the struggle and impracticality that comes with tall and heavy curtains, shutters are lightweight and more convenient, making it much more straightforward to limit the level of sunlight that enters your home. Each shutter comes complete with its own set of louvres, giving you more intricate control and allowing you to make minor adjustments and eliminate pesky annoyances like screen glare. See our reviews on Checkatrade.
Crafted shutters designed to match your windows seamlessly
Tier-on-tier, full-height and tracked shutters are just some of the ideal choices for taller windows and doors. Covering the full height of the window offering a high level of privacy and security, these styles of shutters provide an elegant and traditional finish. If you want to opt for partial coverage, our cafe-style shutters are the most suited for you. Providing maximum light while still giving the desired amount of privacy, this style works great on ground floor windows and, thanks to our waterproof range, bathrooms and wet rooms.
Wimbledon's best value shutters
At London Interior Shutters, we always aim to save you money wherever possible. Thanks to our in-house family-run team of specialists, our extensive knowledge has enabled us to source and produce the finest quality shutters in Wimbledon at the most reasonable price. All quotes include free, professional installation by one of our expert installers and with our price match, you'll never be out of pocket. That's a promise!
Our interior shutters are individually designed to be paired perfectly for windows.
We pride ourselves on being honest and transparent with no sales gimmicks, offering high quality at the very best prices.
Ready to share our passion for perfection?
Here's how it works!
Got a question about shutters?
See the answers to our most frequently asked questions. If there is anything else you would like to know, our team are more than happy to help.
Our Mission
Our aim is simple; to introduce quality into the bespoke window shutter industry across London and the surrounding areas.
Every louvre and every shutter panel is expertly designed, measured and installed paying attention to the finest of details. With decades in the industry, we have worked endlessly to source the best product that is unrivalled in quality, longevity and value.
As we continue to grow, 'passion for perfection' remains at the heart of what we do, operating ethically and providing an outstanding customer experience.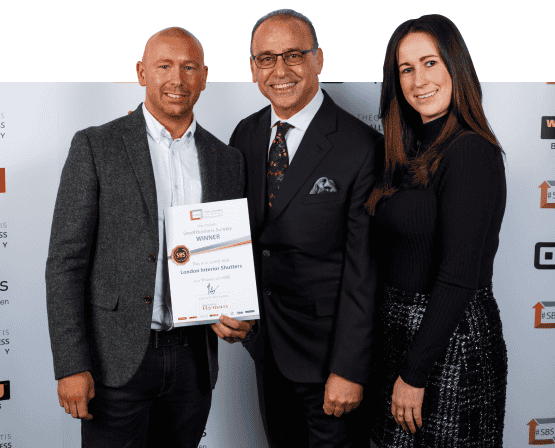 Made to consistently high standards and expectations
Helping you find the best shutters for your home is more than just a job to us here at London Interior Shutters. It's our goal. Every job we take on is carried out by a member of our in-house, family-run team and is just as important as the previous installation. With our outstanding level of customer experience and no jargon motto, we never "drop the ball" (again, pun intended) when it comes to our high standards and expectations for our shutters in Wimbledon.
"Very happy with my wood shutters from this company. Good price, beautiful finish, perfectly fitted and friendly team."
Customer in London
Quick and easy installation
"I love our new shutters! They were installed really quickly and are of great quality. Team were always friendly and kept us informed of progress of our order. Would use again!"
Customer in Wimbledon
"Absolutely fantastic service from start to finish! And very competitive pricing as well. Dan personally oversaw our project and had great ideas on kinds of shutters to suit the overall look of the house. Would highly recommend them!"
Customer in Cottenham Park
With over 1000 happy customers in West London, we are proud to service these areas