Beat any National Retailer
The specialists of window shutters in Barnet
Home to over 391,000, Barnet is a beloved suburban London borough in North London and has become increasingly popular with growing families due to its array of parks and open spaces. Also very popular with commuters, Barnet boasts many Northern Line Stations, making it quick and easy for people to travel directly into Central London and The City. Home to one of the oldest trees, known as the "Totteridge Yew", it is thought that this individual tree is over 2,000 years old and was considered sacred by the mysterious Druids.
With its beautiful landscapes and abundance of history, London Interior Shutters are proud to have our name in hundreds of homes throughout this borough. With our glowing reputation and high-quality shutters, we have quickly become a first choice for the homeowners for shutters in Barnet.
Your expert shutter company
Daniel and Hayley are a husband and wife team with one goal in mind. To provide high-quality shutters in Barnet at unbeatable prices. As industry experts, this family-run team has years of experience and knowledge in all things shutters, both individually and combined.
Let shutters unlock your home's potential
As the second-largest London Borough by population, Barnet is a busy area with even busier residents. Thanks to their low maintenance, shutters are a must have for those on the go. Needing only a quick dusting, you can clean your shutters while waiting for the kettle to boil or for your favourite song to finish. As well as their low maintenance, shutters provide extra insulation and can help save money on your energy bills and with costs rising, this is a benefit we all need now more than ever. Find our reviews on Checkatrade.
See the results for yourself
Whether you have large windows or shaped windows, we have the perfect shutters to suit you and your home. We craft shutters for all different windows. Our shaped shutters are ideal for circular, arched or angled windows. They are totally bespoke to perfectly fit your windows, turning awkward windows into one of your home's most remarkable features. Even more oversized windows that seem impossible to dress can benefit from our full-height shutters, creating a clean and classic finish. With specially designed louvres to control privacy and light, shutters have become increasingly more popular with homeowners up and down the country.
Price matching shutters in Barnet
Our quick and handy online quote tool enables you to receive a price guide for your bespoke shutters in Barnet. Don't worry about accuracy! This tool is solely to give you an idea and help to establish a budget when purchasing shutters. Upon submitting your measurements, a member of our team will be in touch in as little as 12 hours.
Find your ideal shutter style
We pride ourselves on being honest and transparent with no sales gimmicks, offering high quality at the very best prices.
Ready to share our passion for perfection?
Here's how it works!
See the answers to our most frequently asked questions. If there is anything else you would like to know, our team are more than happy to help.
Our Mission
Our aim is simple; to introduce quality into the bespoke window shutter industry across London and the surrounding areas.
Every louvre and every shutter panel is expertly designed, measured and installed paying attention to the finest of details. With decades in the industry, we have worked endlessly to source the best product that is unrivalled in quality, longevity and value.
As we continue to grow, 'passion for perfection' remains at the heart of what we do, operating ethically and providing an outstanding customer experience.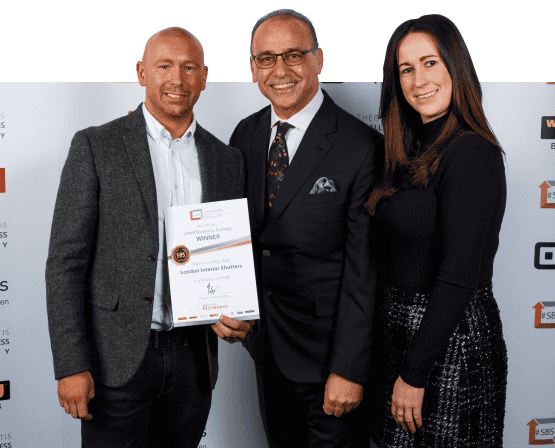 What sets our shutter company apart?
As a family-run business, customer service is essential to us, and here at London Interior Shutters, we go above and beyond to help you create the home you desire. Whatever the shape or style of your windows, our experts at London Interior Shutters are on hand to help you find the perfect shutters to complement your home's exterior and the interior. Our dedicated team will provide different materials and style samples with a no-obligation quote for shutters in Barnet. We cut out all the jargon and sales pitches and just give you the facts and benefits on all things shutters.
Very professional company
"From beginning to end I found this company to be very professional and kept me informed of progress with my order. Hayley was always very friendly and prompt with her responses of any queries I had. Would definitely recommend!"
Customer in London
"Excellent from start to finish. All options well explained, keenly priced compared to similar quotes. Regular updates on delivery times. On the day they were in and out within an hour leaving lovely new shutters!"
Customer in Barnet
Great company to work with
"We have experienced a great service since the first point of contact to installation. In addition, out of all the shutter companies they are by far the best value for money. Delighted with our shutters! Couldn't recommend these guys enough!"
Customer in Borehamwood