The most loved window shutters in Dorking
The beautiful market town of Dorking is situated in South East England. In the Mole Valley District, running parallel to Pipp Brook, the town is nestled by the Surrey Hills Area of Outstanding Natural Beauty, not far from Box Hill and Leith Hill. Dorking has an array of arts and crafts shops, boutiques, interiors and furnishing specialists, as well as vintage shops and antique centres. The town is widely popular and is home to the Dorking market that has been in operation for over 700 years.
London Interior Shutters have been installing our bespoke shutters in Dorking for many years now, and our team never tire of the captivating beauty this friendly town has to offer.
We have the very best wooden shutters
Our expert installers have completed countless projects for London Interior Shutters and settle for nothing less than perfection. Our bespoke shutters are handcrafted to fit windows of all different shapes and sizes. Paying close attention to detail, every louvre and stile is made to fit your frame perfectly, giving your windows an elegant and timeless finish.
Where functionality meets beauty
Shutters are a benefit to any home, whether it be to improve insulation, appearance or even value. With the cost of energy bills on the rise, adding extra insulation wherever possible will help keep costs down while also seeing the value of your home increase. Shutters offer a timeless and classic touch to your home's interior and exterior and require very little maintenance, making them the perfect choice for those who are always on the go. See our reviews on Checkatrade.
Window shutters that will transform your home
When living in an area that still holds so much character from its era, it can be challenging to captivate this within your home while still achieving a sleek and stylish finish. However, our team at London Interior Shutters can help you achieve just that. Our solid shutters are perfect for those wanting to keep the Victorian feel alive and still accomplish the sophisticated vibe that shutters provide whilst also offering maximum insulation, light coverage and noise blocking. We offer a choice of 7 different style shutters, in 4 different materials and an array of colours meaning whatever you choose, your shutters are tailored to you and your home.
Best priced shutters in Dorking
Shutters add a significant amount of class and value to any home, so we know what you're thinking – the cost to have bespoke shutters installed is going to be expensive. Not when you choose London Interior Shutters! We conduct an extensive amount of research to ensure our prices are always amongst the lowest in our industry without compromising on the quality of our shutters or the service we provide.
Our interior shutters are individually designed to be paired perfectly for windows.
We pride ourselves on being honest and transparent with no sales gimmicks, offering high quality at the very best prices.
Ready to share our passion for perfection?
Here's how it works!
Learn more about shutters
See the answers to our most frequently asked questions. If there is anything else you would like to know, our team are more than happy to help.
Our Mission
Our aim is simple; to introduce quality into the bespoke window shutter industry across London and the surrounding areas.
Every louvre and every shutter panel is expertly designed, measured and installed paying attention to the finest of details. With decades in the industry, we have worked endlessly to source the best product that is unrivalled in quality, longevity and value.
As we continue to grow, 'passion for perfection' remains at the heart of what we do, operating ethically and providing an outstanding customer experience.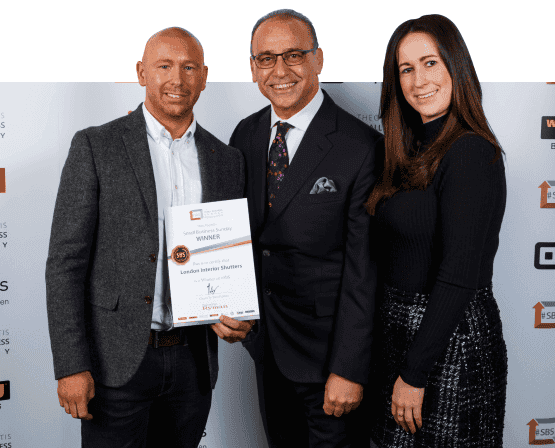 Established family business that prides itself on quality
Choosing a style, shape, and colour can be tricky; however, our design team are on hand to help you every step of the way. Upon your first meeting, our team come equipped with different samples and colours so you can get a natural feel for our products. We will also measure each window and provide you with our extensive knowledge and expertise on what we would recommend for your home and why. It really is that simple, so get in touch with one of our friendly advisors today for your no-obligation quote for shutters in Dorking.
"Absolutely love our shutters. Very professional service from start to finish of the job, and the quality and finish is fantastic. The communication from the team throughout the process was top quality. Would highly recommend."
Customer in Dorking
"Really pleased with my shutters and the service. They arrived sooner than expected and are keeping me cool in the summer!"
Customer in North Holmwood
Excellent installation and service
"Fantastic service and professionally installed as well as great quality shutters"
Customer in Dorking