We create only the finest plantation shutters in Sutton
Sutton is a large borough situated in South West London. Back in 1965, the borough was formed by taking Carshalton Urban District, which had previously been part of Surrey, and merging the Municipal Boroughs of Sutton and Cheam and Beddington and Wallington to create a tranquil borough. Boasting 1,500 acres of open space, Sutton is the rural gem of London thanks to its small district centers that offer more of a village atmosphere than a city. What makes Sutton so popular is its beautiful green landscapes. With a population of around 206,349 and an average of 85,000 homes, this is just one of the areas that we here at London interior shutters cover.
Loved and trusted window shutter experts
Knowing what shutters are available to you can seem like a difficult decision, so we have a team of experts on hand to guide you through the whole process. From the size, design, colour, and material, we're here to answer any questions and concerns and ensure you get the very best from your shutters in Sutton.
Our wooden shutters have many benefits
We know what you're thinking, why should I opt for shutters? Well, not only do they offer a contemporary and polished finish to any home as well as complementing the interior and exterior of the property, but they also act as an excellent insulator. Securing a layer of warm air between the window and shutter helps to keep the warm air in, reducing heat loss in the home by up to 50% and, in the long run saving you money on your heating costs. See our reviews on Checkatrade.
Shutters – where beauty meets functionality
With several different styles and designs, our team of experts will help you find the type of shutter best suited to you and your home. Whether it's our full-height shutters or our tier-on-tier shutters, we will find a design that is best suited for you and your space. Our expert team will create a bespoke design based on not only the shape and size of your windows they will also take into consideration the room and its function.
Quality shutter blinds at low prices
A staggering 70% of shutter consumers search the internet for several quotations to find the perfect shutters for the best deal. Our handy price guide can save you time by explaining all you need to know about the cost of our bespoke shutters in Sutton. Here at London Interior Shutters, we believe in our product, so much in fact that we offer a 7-year guarantee on all of our shutters.
Our interior shutters are individually designed to be paired perfectly for windows.
We pride ourselves on being honest and transparent with no sales gimmicks, offering high quality at the very best prices.
Ready to share our passion for perfection?
Here's how it works!
Got a question about shutters?
See the answers to our most frequently asked questions. If there is anything else you would like to know, our team are more than happy to help.
Our Mission
Our aim is simple; to introduce quality into the bespoke window shutter industry across London and the surrounding areas.
Every louvre and every shutter panel is expertly designed, measured and installed paying attention to the finest of details. With decades in the industry, we have worked endlessly to source the best product that is unrivalled in quality, longevity and value.
As we continue to grow, 'passion for perfection' remains at the heart of what we do, operating ethically and providing an outstanding customer experience.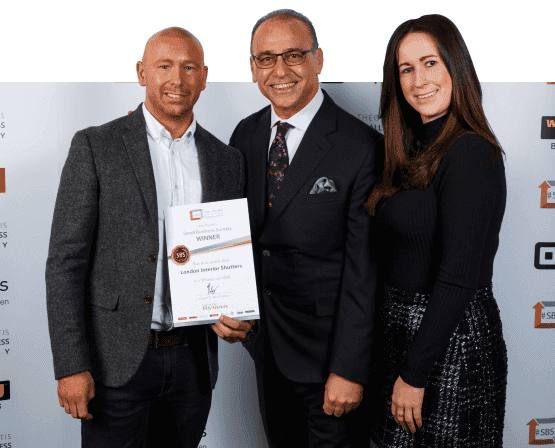 Consistently reliable wooden shutters in Sutton
Regardless of the type of area, we at London Interior Shutters pride ourselves on providing bespoke shutters that will enhance the already stunning features of your property without compromising on attention to detail. With our incredible reputation and excellent customer reviews. You can rest assured knowing that our family-run business of window experts will treat your project as if it were our own. Book an appointment with a member of our friendly team and be involved in the process from start to finish.
"Fabulous customer service. Excellent quality product and fitting. Would not hesitate to recommend."
Customer in Sutton
Our bedroom is transformed!
"Very pleased with our new shutters and the service received. Professional, on time and easy to deal with. The shutters have transformed the bedroom!"
Customer in Cheam
"Really professional company, competitive prices, friendly and helpful team and our shutters look great! Would very much recommend!"
Customer in Carshalton