Beat any National Retailer
The finest shutters in Hampstead
Beautifully nestled next to Hampstead Heath, Hampstead is a charming little village famous for its simplistic and stripped-back vibe. With no significant landmarks or big tourist attractions, you really can appreciate the elegance and beauty found within the village. With a selection of high-end boutiques and delightful cafes, it's hard to believe you are only a 20-minute tube ride from Central London. The vast open green spaces of Hampstead Heath are just one of the things that set this area apart from others. Whenever London Interior Shutters visits Hampstead, with its fresh and fragrant countryside feel, it can be easy to forget you are in London at all.
Trusted, award-winning shutter experts
Having any amount of work done to your home can be daunting. That's why here at London Interior Shutters, we ensure that our team arrive on time, are in uniform and work with the utmost care and respect for you and your home. Your home is left just as we found it, with minimal mess and disruption.
Beautiful window shutters for any home
Shutters offer a range of benefits when living in such a picturesque location. Thanks to their clean and classic finish, plantation shutters can modernise even the most traditional homes adding value to any property, making them a secure investment for any homeowner. With their louvres offering much more intricate control, shutters are perfect for giving you control of the ambient light levels entering a room, allowing you to create a mood within your home. Our expert team are on hand to discuss all things shutters and help you find the style and design you desire. Read our reviews on Checkatrade.
The right shutter design for each and every room
Our shutters are tailored and handcrafted to suit our client's wants and wishes. We install shutters in living rooms, bedrooms and, thanks to our waterproof range, bathrooms, kitchen and wetrooms. Our tracked shutters are crafted to fit patio doors and can even be used as contemporary room dividers whilst our solid shutters are a must for those homes with a more traditional feel. Whatever the interior, we here at London Interior Shutters will find the right shutters for you.
Put our prices to the test today
The cost of your shutters is determined by the number of windows and the size. Our online quotation tool provides detailed diagrams helping you to measure your windows and receive a price guide. Don't worry if your measurements aren't exact, our guide is there to give you an idea. You will receive an accurate quote from one of our experts during your consultation, for shutters in Hampstead.
Our interior shutters are individually designed to be paired perfectly for windows
We pride ourselves on being honest and transparent with no sales gimmicks, offering high quality at the very best prices.
Ready to share our passion for perfection?
Here's how it works!
Got a question about shutters?
See the answers to our most frequently asked questions. If there is anything else you would like to know, our team are more than happy to help.
Our Mission
Our aim is simple; to introduce quality into the bespoke window shutter industry across London and the surrounding areas.
Every louvre and every shutter panel is expertly designed, measured and installed paying attention to the finest of details. With decades in the industry, we have worked endlessly to source the best product that is unrivalled in quality, longevity and value.
As we continue to grow, 'passion for perfection' remains at the heart of what we do, operating ethically and providing an outstanding customer experience.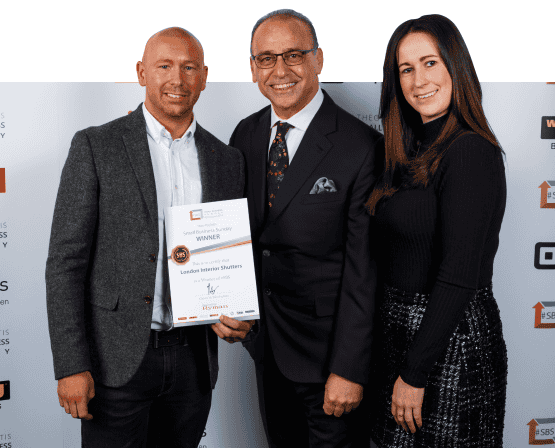 Revolutionary of the shutter industry in Hampstead
As London's multi-award-winning shutter specialist, we have perfected our craft and pride ourselves on the excellent service we provide. Our in-house family-run team has built an exceptional reputation since our opening in 2012 and continues to do so today. Simply fill out your details on our contact form, and a member of our friendly team will be in touch to arrange a suitable time and date to come and visit you and your home. It really is that simple to get shutters in Hampstead!
"Excellent customer service. Kept up to date with progress of order. Reliable, tidy, friendly staff. Superb product. Would recommend!"
Customer in Hampstead
"We were very satisfied with the quality of the work, everything was explained and the job completed exactly as agreed."
Customer in Hampstead
"Great experience from start to finish. Advised on how to place the shutters on my windows, transparency on timing and price, regular updates and a flawless efficient installation. I am delighted!"
Customer in London