Beautiful window shutters in Twickenham start here
Twickenham, situated 11 miles southwest of Central London, is one of the most famous and well-known towns in southwest London. Just 9.9 miles southwest of Charing Cross, Twickenham is the administrative headquarters of the London Borough of Richmond upon Thames. Since 1909 when Twickenham became the first permanent home of the Rugby Football Union, it has become more and more popular with sporting fans. Today, the 82,000 seat stadium still attracts thousands of spectators each year. London Interior Shutters are proud to have completed a great deal of installations in such a prominent and iconic area of London.
London's trusted shutter experts
With shutters becoming increasingly popular, finding a reliable and trustworthy company can be difficult. As London's multi award-winning shutter experts, we are proud of the reputation we have built over the years. We communicate effectively with all our clients and are on hand to guide you through the process of buying shutters in Twickenham.
Solid-built wooden shutters for your home
SLiving in such a renowned area can also bring with it a lot of noise. Shutters are an excellent sound insulator and provide an extra buffer between your windows and any outdoor sound. By helping to deaden the drone of traffic, busy streets and day to day life, shutters are the first choice for anyone living in the more active and more populated areas of London. Thanks to their high standard of design, shutters are crafted and built to last while also providing a high level of privacy and security. See our reviews on Checkatrade.
Anything is possible with our shutter blinds
Our solid shutters, made from our high-quality hardwood, offer the maximum level of privacy and coverage for any window. With the added benefit of providing a complete blackout solution, solid shutters are the ideal choice for those who crave a little bit more seclusion and tranquility. Our shutters are available in a range of 7 different designs, from our full-height shutters to our expertly crafted shaped shutters to fit those more architectural windows. With 5 different louvre sizes to choose from, we create your shutters to fit your space and decor perfectly.
Amazing saving on all shutters in Twickenham
It can be a worry to have any renovation work completed, especially when you are handed a final bill with additional charges and costs that were not on the original quote. Here at London Interior Shutters, we give you a quote for your bespoke hand-crafted shutters at your consultation. When you are happy to proceed, the price is locked in and secured, meaning you won't be left with surprise fees upon completion.
Our interior shutters are individually designed to be paired perfectly for windows.
We pride ourselves on being honest and transparent with no sales gimmicks, offering high quality at the very best prices.
Ready to share our passion for perfection?
Here's how it works!
Got a question about shutters?
See the answers to our most frequently asked questions. If there is anything else you would like to know, our team are more than happy to help.
Our Mission
Our aim is simple; to introduce quality into the bespoke window shutter industry across London and the surrounding areas.
Every louvre and every shutter panel is expertly designed, measured and installed paying attention to the finest of details. With decades in the industry, we have worked endlessly to source the best product that is unrivalled in quality, longevity and value.
As we continue to grow, 'passion for perfection' remains at the heart of what we do, operating ethically and providing an outstanding customer experience.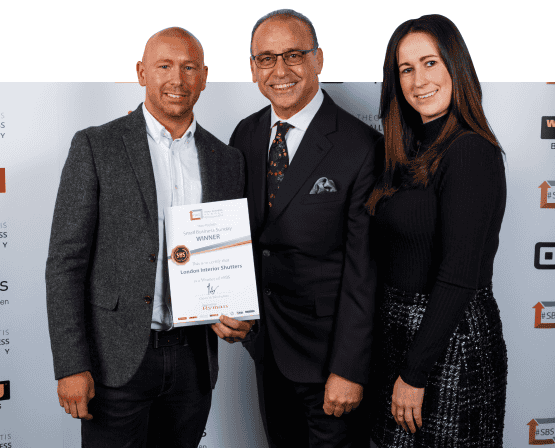 The full service that has been loved by hundreds of happy customers
When you book with London Interior Shutters, you get more than just a product. You have access to our highly experienced team who will conduct home design consultations which involves surveying your windows, assessing the best design and materials, liaising with you, our client, throughout the whole process and providing a no-obligation quotation. With over 10 years of experience, our keen eye for detail and perfection and our excellent customer reviews, it's no wonder we are the most loved shutters in Twickenham.
"My Mum had her retirement flat fitted with shutters we would recommend this company as was a 1st class service from start to finish they look absolutely beautiful."
Customer in Twickenham
Really easy company to work with
"London Interior Shutters are amazing. It was so easy dealing with Daniel and Hayley, and the final product looks incredible. I cannot recommend them enough."
Customer in East Twickenham
3 x sets of plantation shutters
"We had x3 sets of shutters fitted. Really happy with quality of product. Workmen were on time, professional and happy. Service & communication from initial enquiry through to fitting was excellent! Would highly recommend"
Customer in London