The specialists of window shutters in Bexhill
Bexhill, or Bexhill-on-Sea as it is also known, is a small and peaceful town located at the very heart of the district of Rother, in between Hastings and Eastbourne. Back in 1902, this stunning coastal location was home to the nation's first two automobile races attracting thousands of fans. Today this picturesque seaside town still hosts the festival of motoring, drawing thousands of motoring enthusiasts to this unique and charming location. Here at London Interior Shutters, we are proud to have our name scattered throughout this remarkable town in many of its contemporary homes. If you have seen shutters in Bexhill it is likely the work of London Interior Shutters.
A shutter company you can trust
With a selection of different shutter designs and colours, it can be challenging to know where to begin. That's where we come in. As industry experts, we know all there is to know about all things shutters in Bexhill. We're on hand to guide you through the whole process and answer any questions or queries you may have.
Explore the possibilities for wooden shutters in your home
With Bexhill boasting the most stunning sunrises and sunsets, having enough coverage on your windows to prevent glare and allow you to enjoy the view is essential. Shutters allow you to control just how much light enters your home by adjusting them to deflect the sun's glare wherever its position is without compromising the spectacular scenery. With the added benefit of insulation to keep your house cool in the summer and warm in the winter, it's no wonder, with their nautical seaside feel, that our bespoke shutters in Bexhill are becoming the number one choice for coastal locations Check out our 9.9 rating on Checkatrade.
Explore our shutter gallery
London Interior Shutters offers a wide range of shutters in different sizes, materials and designs. We craft our shutters to fit any window within any room in your home, with all measuring and calculations completed by one of our friendly family experts. We offer a variety of shutters, each with its own unique qualities and quirks. Our hybrid shutters are just one of the materials we offer. With a choice of 23 different shades, you can incorporate them to blend in with your homes current interior, and their design is indistinguishable from the more expensive materials in our range.
Shutters that make the most of your money in Bexhill
Using our online quote tool has never been simpler. Our online diagrams show you just how to measure a curved bay window, a standard window and a 3-sided and box bay window. Measurements do not need to be exact, and with our image uploader, it couldn't be easier to get a price guide from the leading shutter specialist.
Shutter styles for every requirement
We pride ourselves on being honest and transparent with no sales gimmicks, offering high quality at the very best prices.
Ready to share our passion for perfection?
Here's how it works!
Have a question? Find the answer
See the answers to our most frequently asked questions. If there is anything else you would like to know, our team are more than happy to help.
Our Mission
Our aim is simple; to introduce quality into the bespoke window shutter industry across London and the surrounding areas.
Every louvre and every shutter panel is expertly designed, measured and installed paying attention to the finest of details. With decades in the industry, we have worked endlessly to source the best product that is unrivalled in quality, longevity and value.
As we continue to grow, 'passion for perfection' remains at the heart of what we do, operating ethically and providing an outstanding customer experience.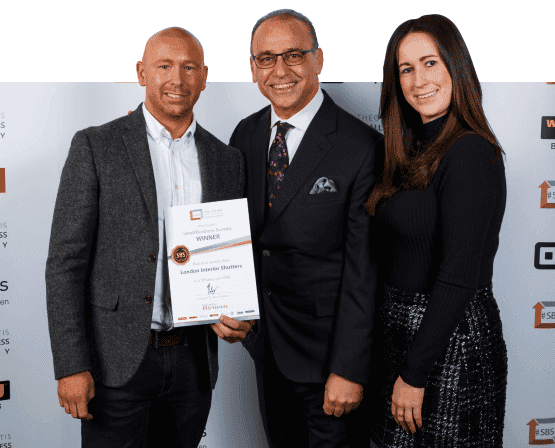 5* service from your plantation shutter experts
Our team becomes invested in every project we take on from the very first point of contact until the very last fitting is fixed. Our friendly aftercare team are available during your standard 7 year warranty period, so you know you're in safe hands during your shutter journey. With a complete handover, demonstration on how to use your new shutters and your home left as immaculate as when we arrived, it's no wonder London Interior Shutters are the most loved shutters in Bexhill!
"Love my new shutters that arrived today. The customer service was outstanding, price competitive and the shutters fit perfectly and fitted very quickly and efficiently. Trying to work out which room to do next now! Would highly recommend!"
Customer in Bexhill
Will definitely use again
"Hayley, Dan and the team provided exceptional customer service from initial quote to installation. They were good at communication and provided good value for money for the quality of materials and service we provide. If we need this service again we'll be coming back to you. Thank you."
Customer in Bexhill
Excellent quality shutters
"Excellent service from start to finish and very competitive pricing. The quality of the shutters are second to none. Would have no problem recommending them."
Customer in Sidley
With over 1000 happy customers in Sussex, we are proud to service these areas