When it comes to shutters, despite many other colours being available, white is by far the most popular option for most homeowners, but just what is it about this classic shade that makes them popular? Throughout this article, we are going to share with you all the reasons why white can excite even the trickiest of spaces. Here are some of the main benefits of white shutters and why they are the nation's favourite shade when it comes to window dressings.
Why 97% of customers choose white:
Perfect for any interior & colour scheme
Make your space feel larger& brighter
Maintain & reflect natural light
Help keep you cooler in the summer
Timeless
Why white is a good design choice
As well as their undeniable elegance and chic finish, white shutters work in any room, no matter the colour scheme or interior theme. With the ability to lighten even the darkest of rooms, opting for a fresh shade of white, will bring your room to life by brightening your home. This is even proven to improve your positive mental health and wellbeing!

It has been said that "white goes with everything," which is true!
Not only do white shutters give your room a fresher look and compliment the current décor but they are also an excellent choice for those who like to redecorate and often change a room's colour scheme. With their versatility and simplicity, white shutters can work in both light or dark and small or large rooms and with their endless style, they are sure to withstand the test of time.

Are white shutters harder to keep clean?
Now, we know what you are thinking, especially those with children and pets. Will white shutters make dust and stains appear more visible? This is a perfectly reasonable question, and if we were talking about curtains or blinds, we would say 100% to avoid white. However, shutters are in fact, the easiest window dressing to keep clean, even the whitest of white shade! Shutters are so low maintenance they only require a quick dusting or wipe, taking a matter of minutes, so don't let pet hairs and tiny fingerprints put you off.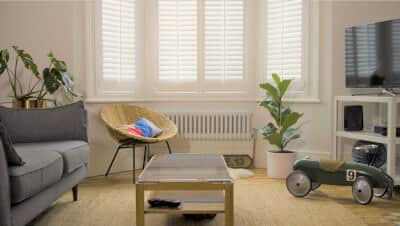 Another bonus to white window shutters
We could talk all day about how beautiful, elegant and all-around perfect white shutters are but did you know about their energy efficiency feature? Shutters are an excellent insulator for your home in the colder months and ventilate your home in the warmer months, but what does this have to do with the colour choice? Well, lighter colours tend to reflect heat while darker colours absorb it. Opting for white plantation shutters can help your home remain cooler in those sunny months as they reflect the sun's rays, unlike the darker shades.

Natural light is the most important aspect of a home for 63% of homeowners
It's clear why so many households have invested in shutters in a clean and crisp white shade. There is something everlasting about the style and sophistication that oozes into a home that has had white shutters installed, and there is currently no sign of this trend fading. So don't be afraid to jump on board. We can guarantee you'll be thrilled with the results.

Let's still explore colour…
If you are still thinking of adding a splash of colour into your shutters then this can really look great with solid shutters. Colours can also look great on small windows or you can opt for café style if you're thinking of bold colours. If you have a large window or small room we would recommend a subtle hint of colour.
White Shutters for any window
Within our standard shutter colour range we have selected six of the most popular shades of white. If this isn't quite the right shade of white for you, we also have the option of colour matching any shade from Dulux, Little Greene or Farrow & Ball paint brands, to find the perfect white shutters for you.

Pure white

Extra white

Silk white

Pearl

Ice

Decorators white

Custom Colour