In recent years, bi-fold doors have become an extremely popular choice as we seek to inject more natural light into our homes. At some point, you shall consider a dressing for your bi-fold doors and we understand that it may be a difficult decision to cover the wonderful view of your outside space. However, light control and privacy are often needed in our homes.Tracked shutters are both stylish and practical. They are easily adjusted to allow the perfect level of light to suit your needs, whilst complementing your bi-fold doors and living space perfectly. Here, we summarise why tracked shutters are perfect for bi-fold doors.
Shutters are Simply Beautiful
Made-to-measure tracked shutters add an air of sophistication to any property and have a totally unique look. White shutters are most popular and are a timeless choice which shall match any interior décor. However, tracked shutters can be finished in any colour to co-ordinate with any interior or colour doors, even graphite grey which is a popular colour for modern doors and windows.
Light Control
Bi-fold patio doors are great for the reams of natural light that enter your rooms but in the summer months there often becomes a need to reduce brightness, heat and to protect furniture from damaging UV rays. Shutters are perfect, as each shutter panel has independent banks of louvres to enable fine adjustments to soften natural light without losing the outside view. You can easily fold back the shutters in a concertina fashion, to fully expose your bi-fold doors for maximum light and air circulation.
Privacy Control
Bi-fold doors are designed to flood a room with light but this can leave your home exposed and with little or no privacy. With other window dressings they are either fully open or fully closed but with shutters they are this and everything in-between. The louvres are easily adjusted to your preferred level of privacy. They are also great for added security as they can discreetly block the view into your home from unwanted onlookers.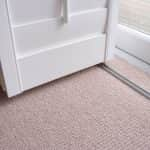 Hardwearing & Long Lasting
Buying a made-to-measure product can be a big purchase and when they shall potentially be covering something as beautiful as bi-folding doors, we want to ensure it is an equally beautiful product but also a practical and long lasting solution. Tracked shutters are built to last and will remain with your bi-folding doors for many years. They are easy to clean and there are no cords or awkward corners to trap dust or absorb cooking aromas. Tracked shutters can be made from our full range of shutter materials; for ultimate durability we would recommend our waterproof range. Our waterproof range is most hardwearing and you will never have to worry about accidental spills, excessive rain or condensation. They can be intensively cleaned on regular basis.