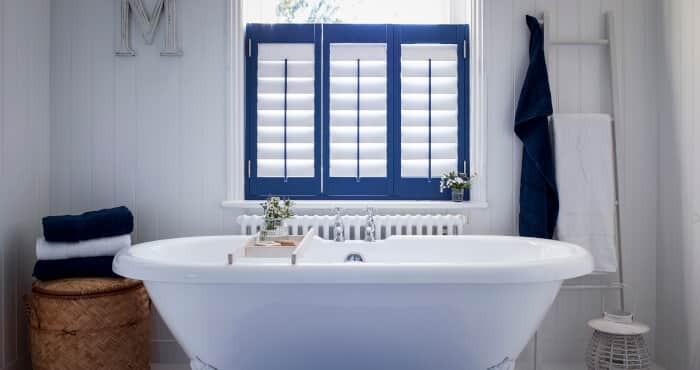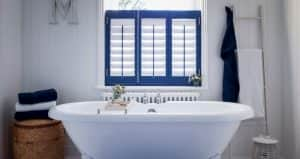 Plantation shutters are profoundly versatile, and many homeowners across the UK have reaped their benefits by having them installed to the bay, sash and casement windows in their bedrooms, lounges, and dining rooms, but there always seems to be the lingering question "Can I have plantation shutters installed in my bathroom?". With much hesitation around this one area, we thought we would answer the question for you.
If possible, we would discuss the benefits and drawbacks, allowing you to come to a conclusion yourself, but when it comes to plantation shutters and bathrooms, there really is only one answer. Shutters can be the perfect addition to every room of your home – including your bathroom! Let's take a look at why…
Introduce waterproof shutters to your home
Usually, wooden materials can be easily damaged in locations of high humidity, such as bathrooms. For this reason, many homeowners are put off of the idea of installing shutters into their bathrooms. However, with the range of materials available nowadays, this needn't be an issue. Many suppliers, including us, provide waterproof vinyl shutters, allowing your bathroom to benefit from the same cost-effective advantages as the rest of your home, without the damage. This means that plantation shutters can be a long-lasting, water-resistant solution for window coverings in en-suites and wet-rooms, as well as any other location with high moisture content.
Present style to your bathroom
When it comes to interior design, bathrooms are often left at the bottom of the list, with many people assuming that not much can be done to add an element of style to the room. With waterproof plantation shutters, this assumption has never been more wrong. The simple installation of a bespoke, made-to-measure window coveringin a colour of your choice, can complement the tones of your bathroom in a seamless transition. Wave goodbye to those flimsy plastic blinds and welcome in elegance, maturity, and sophistication.
Increase cleanliness in your bathroom
Naturally, the concern for hygiene levels is at a high in the bathroom. Maintaining cleanliness is a task which is often undertaken, but when it comes to cleaning material or flimsy plastic blinds, this can be a challenge and one, shamefully, that people may overlook. With plantation shutters, cleaning is kept simple. With a damp cloth and a suitable cleaning solution, your window coverings can remain free of germs and bacteria with a simple wipe.
Retain your privacy whilst welcoming air and light
One of the top benefits of plantation shutters in bathrooms is the ability to retain your privacy at all costs. Have the window open and allow fresh air in to balance the humidity without having your blinds moving in the wind and invading your privacy. Tilting the louvres ever so slightly will also allow you to welcome in the light, preventing you from showering in the dark to protect your privacy – and this could also save you money on your electricity bills!
Here at London Interior Shutters, we are experts in all things shutter related. Add style, increase cleanliness, and retain your privacy in the bathroom with our made-to-measure range of waterproof shutters. Give us a call on 0800 023 5044 or email us at info@inshutters.co.uk and we will be delighted to transform the life of your bathroom.