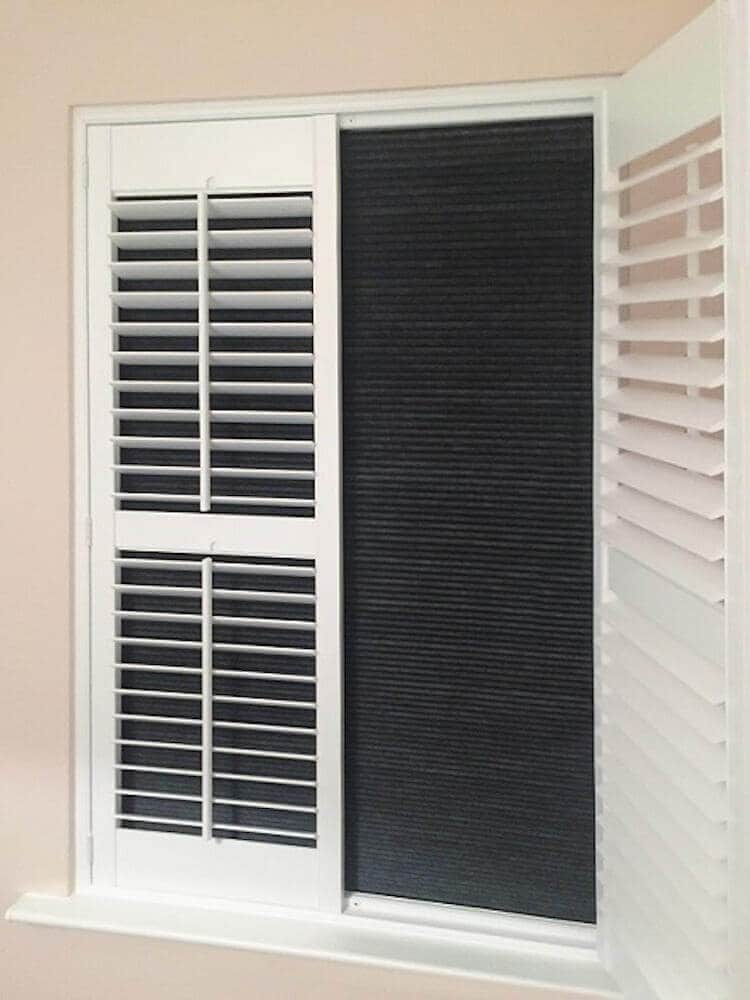 Shutters offer great levels of light elimination and most customers find them sufficient for their bedrooms. However, shutters are not complete blackout.
For those requiring greater levels of light elimination, shutters can be paired with an integrated blackout system where a pleated blackout blind is built into the rear of the shutter framing, providing a near total blackout solution. Also, depending on your windows, shutter style and interior design choices, shutters can be supplemented with blinds or curtains.
What are blackout shutters?
Our blackout blind sits in its own channel discreetly at the rear of the shutter frame. This eliminates most, if not all, light bleed. In the morning you can easily open the shutter panel and lift the blackout blind up and you would not know it was there. The blind itself is a lightweight, honeycomb pleated blind and is available in 20 different colours. The frame depth shall increase by approximately 4cm.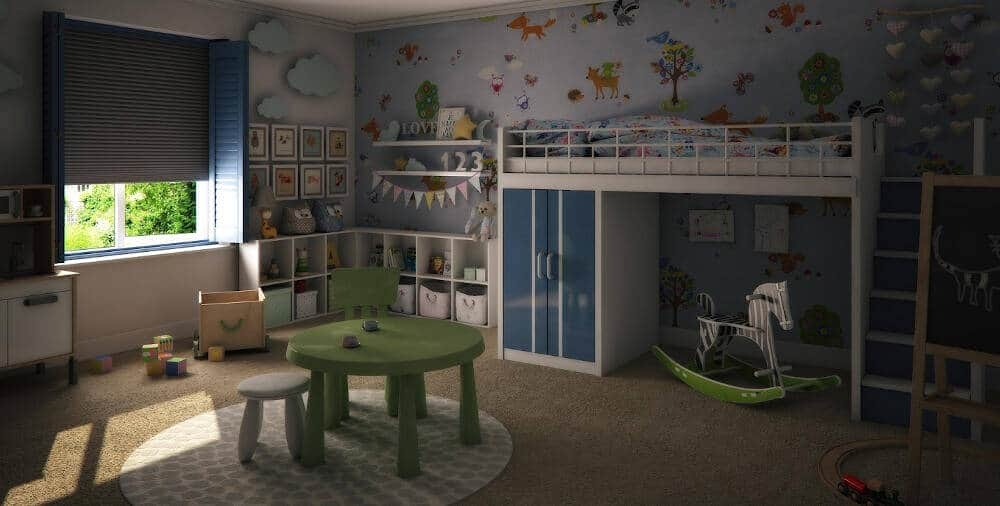 Are shutters better at eliminating light than blinds or curtains?
Curtains and fabric blinds (even if blackout lined) tend to leak light at the sides. Depending on the window, shutters (without an integrated blackout system) commonly offer an increased level of darkness. Compared to venetian blinds, shutters are often significantly better at eliminating light.
Do I need blackout shutters?
Customers who choose blackout shutters are generally those who are sensitive to light. They are also common for nurseries, cinema rooms and those who work night shifts. We usually advise customers to bear in mind that there may be additional light entering the room in the summer months.
Where does light leakage occur without blackout shutters?
This is happens in two places:
Where the shutter panel sits within its frame. As the shutters are hinged on a frame (which allows them to fold open and closed) there is approximately 3mm space between the shutters and the frame around 4 sides (so they can freely open and close), this can create light leakage.
Through the louvres. A small amount of light is able creep through the overlaps where the louvres meet.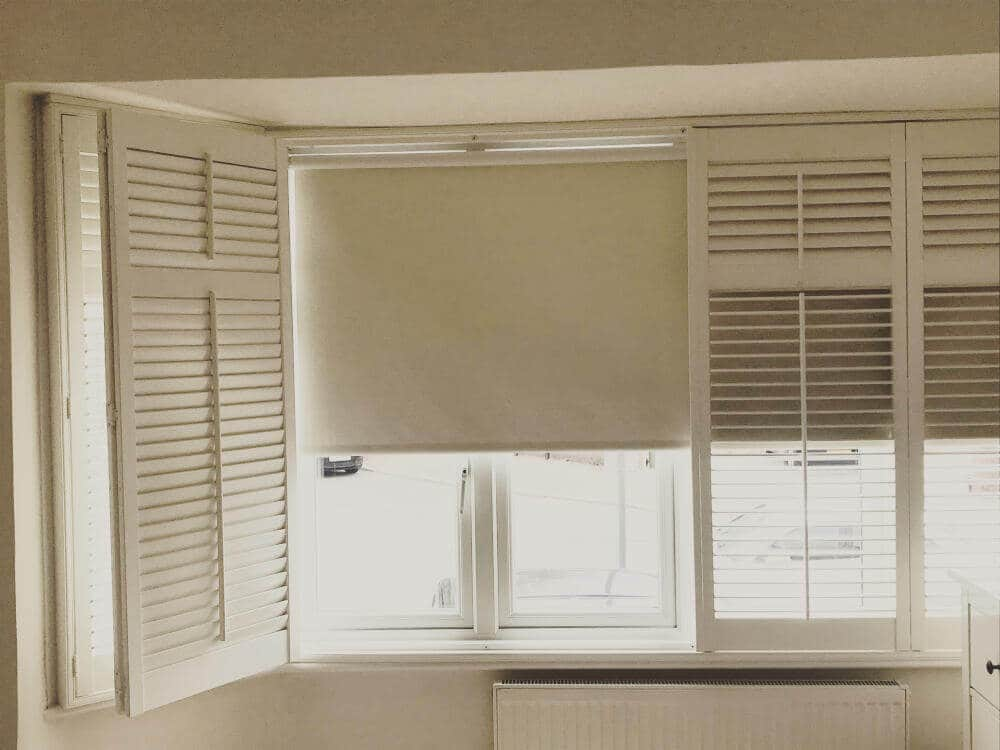 Will the shutter design affect the level of blackout?
The level of light elimination can vary depending on the style and design of shutter you choose. A larger louvre size can be more effective at blocking out light compared to a smaller size. Sometimes, opting for a darker colour can help the room feel darker and more tranquil. Another option is our solid panelled shutters which can typically block out more light than a louvered design.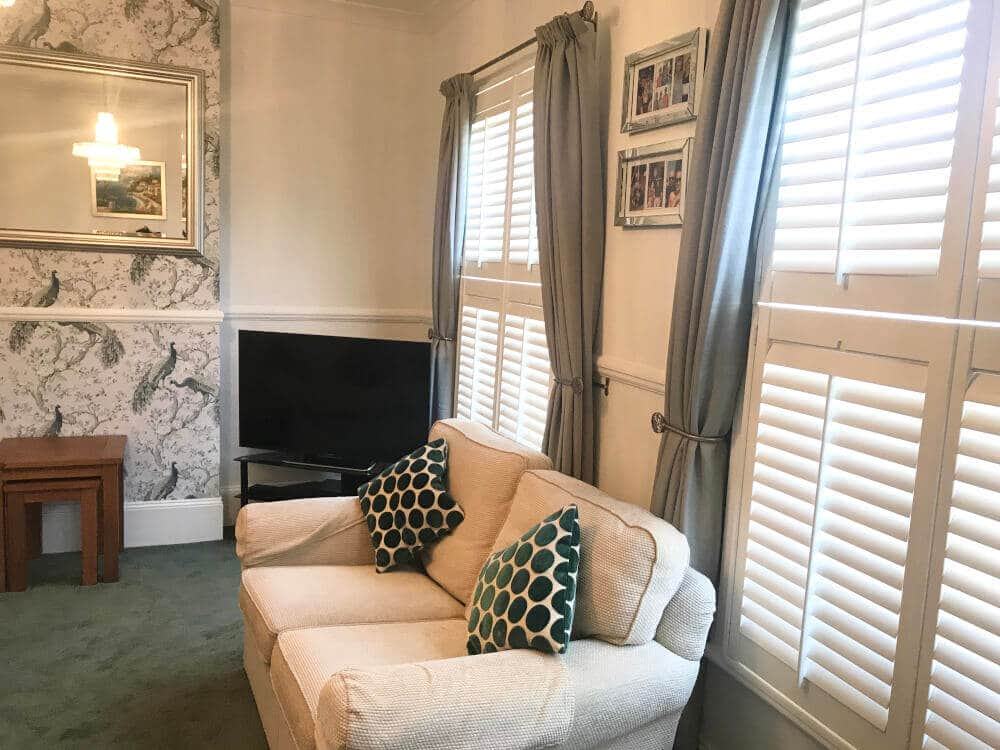 Can I pair my shutters with blinds?
Another alternative to integrated blackout blinds is to install separate blackout roller blinds behind the shutter frame. Depending on the type of window you have, this can work well and can be a cheaper option to achieve blackout in your rooms.
Can I pair my shutters with curtains?
Shutters alone look great and can totally transform any room. Combining shutters with curtains can create the perfect layered look to make your room feel interior-designed. The addition of the fabric will add texture and opting for bold coloured curtains, can create the perfect contrast with the shutters. Café style shutters are a popular choice for combining shutters with curtains.
Whilst we currently do not sell curtains, we highly recommend another local family business, The House of Carpets & Curtains.  They are based in nearby Sydenham.